Kitty is one of the cute (Kawaii) characters who has been loved for a long time not only in Japan but also abroad. Kitty is a hard worker. Without choosing a job, she appears as a character of various fields such as clothes, sweets, jewelries, smartphone games, locally-limited products and so on. There are many pretty (Kawaii)Kitty sweets, and the illustration on packages is popular.
Let me introduce inexpensive popular sweets, chewing gums that you can eat easily. "3 packs of Hello Kitty gum"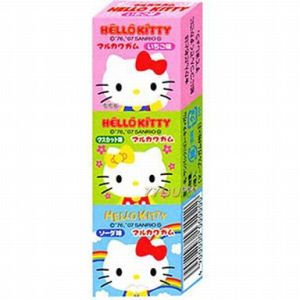 Reference  marukawagum
You can enjoy six kinds of illustrations on the package and three flavors which are strawberry, Muscat and soda.
There is an orange flavor, too. The illustrations of  Kawaii Kitty have become prettier than before.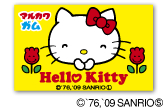 Reference marukawagum
Kitty appears as a character of a luxury chocolate brand, too. The Belgian luxury chocolate brand, "Godiva" released "GODIVA & Hello Kitty" on November 6.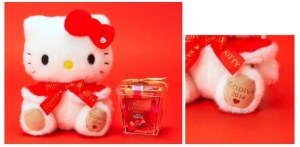 Reference   1976,2014 SANRIO CO.,LTD
It is a set of a Hello Kitty stuffed toy in a bright red cape and milk chocolate truffles. The " Wrapping chocolate truffle milk (5 pieces are contained)" has smooth palate feeling. The bite-size milk chocolate ganache is coated with milk chocolate and has a rich taste.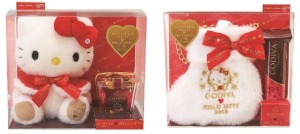 Reference   1976,2014 SANRIO CO.,LTD
Notes.
I think it looks like just the childish design of a cat, but now Kitty is regarded as a celebrity.
Wrapped up by Yushi