"Jibanyan and Koma-san Appear on Pocky and Ice Cream", from My-navi News
Glico has launched a collaboration between its Pocky and Pretz snacks and "Yo-Kai Watch."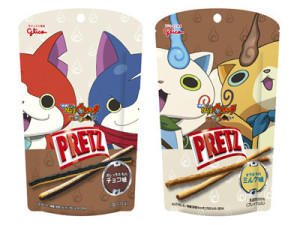 Reference  news.mynavi.jp/news/2014/12/10/256/
"Pretz Chocolate Taste"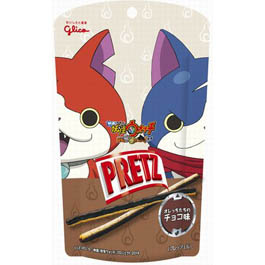 Reference  tajimaya-cc.net/item/detail/4901005102958
 This white Pocky is made with milk-flavored chocolate. It features pictures of Jibanyan and Fuyunyan, who love milk. Jibanyan and Fuyunyan are printed on the package. The Pretz has a rich taste which adds the flavor of condensed milk to the sweetness of chocolate.
"Who is Jibanyan?"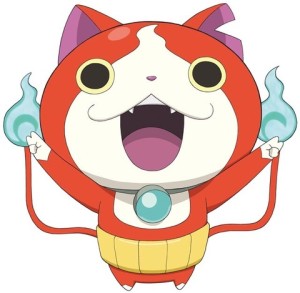 Reference   parusoku.com/archives/39295294
He is the hero's sidekick in "Yo-Kai Watch" and a cat specter. One day he was killed by a car, and he became an earthbound spirit. His favorite food is fish, and he loves chocolate snacks named "Choco-bo."
"Who is Fuyunyan?"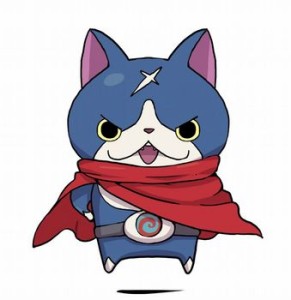 Reference   eq1332.blog.so-net.ne.jp/2014-06-13-3
He is a cat specter, the same as Jibanyan.
 "Pretz Milk Taste"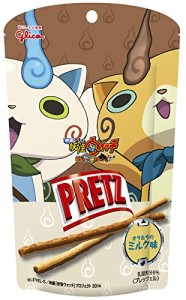 Reference amazon.co.jp
Koma-san and Koma-jirou are featured on the package. When you eat them, the slight sweetness of milk spreads in your mouth.
"Giant Pocky Strawberry Taste"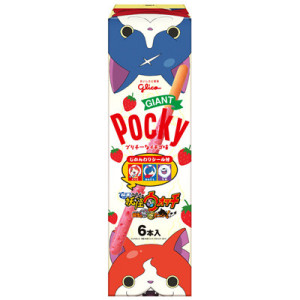 Reference  news.mynavi.jp/news/2014/12/10/256/
Its image is Jibanyan and Fuyunyan. The bittersweet giant size Pocky combines pieces of strawberry with cream.
It comes with original class schedule stickers with characters from "Yo-kai Watch."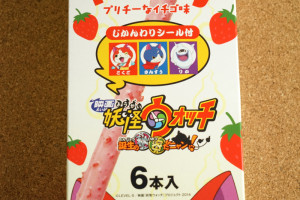 Reference   chocolabo.com/2014/12/11
Original class schedule stickers  of "Yo-kai Watch"
It isn't really a school class schedule; it is a bunch of stickers with cute ghosts on them.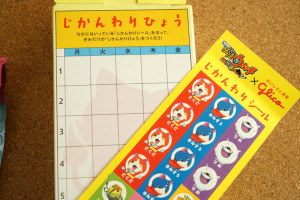 Reference   chocolabo.com/2014/12/11
Children love these stickers and enjoy playing with them.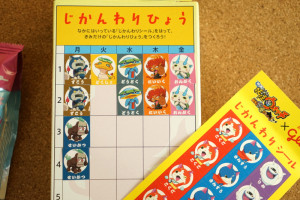 Reference   chocolabo.com/2014/12/11
Notes.   Let's study ghosts by this class schedule of "Yo-kai Watch"
Wrapped up by Sou